Whether or not you are committed to drinking only organic wine is of course up to you. Plenty of wines out there these days are made (partially) from organically grown grapes. A smaller percentage are made entirely from organically grown grapes.  So if absolutely organic is what you're looking for, be sure to check the label for the words 'made from 100% certified organically grown grapes.' If it doesn't say that on the label, chances are it isn't. These wines do contain sulfites (Sulfites have strong antimicrobial properties and some antioxidant properties) in very small amounts–up to about 100 parts per million–but that shouldn't concern you unless you have asthma.  Sulfites can cause constriction of the airways and precipitate an asthma attack. In 1986, the FDA banned the use of sulfites as spray-on preservatives for fresh fruits and vegetables (think  salad bars) in response to 13 deaths and many illnesses linked to them, mostly in asthmatics. Sulfites are still used in some foods, such as dried fruit, as well as wine.
The National Organic Program (NOP), part of the USDA has set guidelines for the processing and labeling of organic products and maintains the National List of allowed and prohibited substances. According to the NOP and the ATF (Bureau of Alcohol, Tobacco, and Firearms, which regulates wine labeling) who have stated that all label approvals filed with them must comply with the USDA relating to the NOP, there are four categories that organic wines can claim: 100% Organic, Organic, Made With Organic Ingredients, and Some Organic Ingredients. Today, these categories define organic wine so understanding the differences among the four categories is important if you want to know what you are really buying.
For a wine to be labeled Organic and bear the USDA organic seal, it must be made from organically grown grapes and give information about who the certifying agency is. A wine in this category cannot have any added sulfites. Remember–it may have naturally occurring sulfites–but the total sulfite level must be less than 20 parts per million. A wine that makes the claim Sulfite Free must have no detectable sulfites. "No added sulfites" means that the winery did not add sulfites to the wine but remember there may be (and probably are) naturally occurring sulfites in the wine that occur as a byproduct of fermentation.
TIP: Don't trust a store's wine grouping–i.e. check the label.
Leaders in biodynamic, organic, and certified-sustainable farming, Benziger Family Winery is dedicated to crafting wines that are true to the grape variety, vintage, and vineyard. Their entire portfolio is certified sustainable, organic, or biodynamic.
The property – an extinct volcano caldera resembling a 360-degree bowl that sits in a valley 800 feet above sea level in Glen Ellen, is considered ideal for wine growing. The family has been growing grapes and making wine here for the last 30 years. Initially they worked the vineyard pretty much like everyone else did–namely through the use of chemical sprays, but Mike Benziger didn't like the way they were growing or treating the land. So he moved towards a different model–biodynamic farming.
This was largely due to Mike's association with one of the leading experts in biodynamic farming, Alan York.
So the Benzigers traded in their sprays for flowers that attracted the right bugs to keep the unwanted ones in check. And they created welcoming habitats for birds and owls. And they brought in sheep, chickens, and cows who in their various ways worked together (biodynamically) to grow the family's grapes without the harmful effects of pesticides. But the results weren't just seen in the beauty of the land and the crop and the knowledge that their farming methods were helping the land and environment and contributing to those efforts in the future. It was seen and tasted in the glass.
"Healing the land had led to an amazing new caliber of wines and we knew we had to begin applying the lessons learned on our estate to all the vineyards we worked with," says Chris Benziger.
The grounds here are beautiful and considered a 'must-see' by many visitors. The Benziger underground wine cave (30,000 ft.), completed in 2000, was primarily a green decision–a way to keep the wines within a specific and steady temperature (67 degrees) range via natural means.
Wines include Cabernet Sauvignon, Pinot Noir, Zinfandel, Sauvignon Blanc, Merlot, Chardonnay, Syrah, and Petit Sirah Reds: Tribute, Estate Zinfandel, Sonoma Mountain Red (McNab Vineyard).

Plenty of tour options at Benziger, including their vineyard and tram tours. Enjoy a close-up look at their biodynamic vineyards, the fermentation facility, crush pad and walk through the barrel caves. The tour is approximately 45-minutes, including a special tasting of their biodynamic and other award-winning wines. So you can judge for yourself if biodynamic farming pays off in the glass.
Gift shop, private tasting, picnic sites, cool wine caves (pun intended), event space, wine education seminars, catering. . . Lots of things to enjoy here, in addition to the wine. Salud!
"I watch them coming up the path, and I can see them smiling. And that's the whole idea." —Carl Doumani, Quixote Winery.
With Cervantes' Don Quixote as their muse, Quixote Winery (located between Shafer and Stags' Leap Winery) in what is known as the Stag's Leap District Napa Valley appellation is a place you're not apt to forget.
Stag's Leap's vintner Carl Doumani wanted a complete departure from "normal" structures when he set out to build the small winery in the hills of Napa. Mission accomplished at age 74 with a result that some say looks like the imagination of Dr. Seuss personified. We would tend to agree. And that's all because of a controversial Viennese environmentalist, artist, and architect, Friedensreich Hundertwasser. Doumani tracked him down to design Quixote in the late 1980s.
Hundertwasser's philosophy was that nature should be an integral part of man-made structures. This is reflected in the winery's roof with 30 inches of sod, out of which grow native grasses and trees. Another aspect of his architectural philosophy is a complete disregard and disdain for straight lines, as you'll see at Quixote.
Local materials were used to construct nearly everything at the winery and whimsy is everywhere.
Although the wines are not made exclusively from organic grapes, the estate's Stags' Leap Ranch vineyards are organically grown, Quixote wines are exclusively red and their specialty is Petite Syrah (which put Stag's Leap on the map). The winery also has a second label called Panza (named after Don Quixote's sidekick).
Besides Petite Syrah, wines you'll taste here also include Cabernet Sauvignon.  Prices range from $50-140. No wine club discounts.
Both Quixote and Panza wines are bottled with twist-top closures, allowing the wines to be stored vertically, rather than horizontally. This allows the natural sediment to sink to the bottom and eliminates the risk of the wines being "corked"– (wine jargon for a cork that contains mold spores and ultimately ruins the wine. )
By Barbara Shinn – Apr 11, 2011
There is a moment every spring when the vines weep. It only lasts for a day or two and it has just now begun. Warmed by the spring sun, their sap begins to flow upward from the trunk and out to the tips of the fruiting canes. Eventually as the sap arrives at a pruning cut it will drip out through the opening, catching the light of the soft spring sun and fall to the ground.
continue reading at Organic Wine Journal
Barbara Shinn owns and operates Shinn Estate Vineyards in Mattituck, NY with her husband David Page. Barbara is the viticulturalist and agronomist at the estate.
By Patty Burness , The Inquisitive Traveler

As you exit Highway 101 near Healdsburg and head west toward Dry Creek Valley, the road narrows. Meander through hobbit-friendly forests of oak, redwood and evergreen trees, then uphill to discover the beautiful Montemaggiore estate. Here you'll find some of the best Syrahs around.
Montemaggiore ("great mountain" in Italian) is one of the wineries on Dry Creek's Green Trail (certified organic and/or biodynamic). The owners are hands-on – farming grapes and olives in the mountains above Healdsburg and taking care to be environmentally responsible. It's hard to get enough of their estate Paolo's Vineyard Syrah, named for their son and future winemaker.
complete story on The Inquisitive Traveler, Northside San Francisco

Photo by Jaymi Heimbuch
Tucked away high in the hills of Templeton, California is AmByth Estate, the first and only certified biodynamic vineyard within the Paso Robles Appellation–an area well known for its Zinfandel and Rhône varietals. And AmByth does not disappoint. The boutique winery is family-owned and operated by Phillip Hart and Mary Morwood-Hart, and produces over a thousand cases of certified biodynamic wine every year (and certifiably yummy!). Oddly enough, being biodynamic is something they never intended to be. It was a lucky accident…
Read the rest of the Article and see lots more pix at Treehugger's Green Wine Guide
Fitzpatrick Winery and Lodge is perched on a ridge top with spectacular panoramic views of the surrounding valley and mountains.
Located above the Sierra Foothills of California's Gold Country, it's about half an hour south and a little east of Placerville.
Fitzpatrick features hand crafted wines made from their own organically grown grapes and a Bed and Breakfast with a uniquely Irish flavor.
Four Santa Cruz Mountains wineries have teamed up to form an Organic Wine Trail that extends from Saratoga to Corralitos.
Announced events include an an "Eco-Ride" package every weekend in April plus Earth Day (Friday, April 22) that includes a horseback ride and tours of two of the wineries, and Earth Day tours on Saturday, April 23rd with all four wineries participating. Read the rest of this entry »
Reuters via guardian.co.uk, Tuesday 8 March 2011 14.24 GMT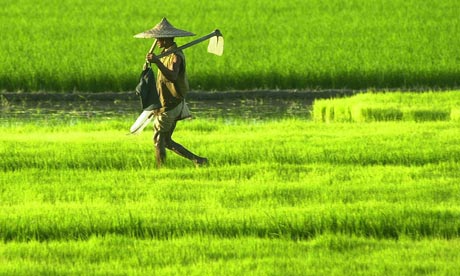 A move by farmers in developing countries to ecological agriculture, away from chemical fertilisers and pesticides, could double food production within a decade, a UN report says.
Insect-trapping plants in Kenya and ducks eating weeds in Bangladesh's rice paddies are among examples of recommendations for feeding the world's 7 million people, which the UN says will become about 9 billion by 2050.
Read the full article on the Guardian Website.
If you like whimsical architecture with your wine, try Barra of Mendocino.
Originally built as the tasting room for Weibel Champagne Cellars, the 5,000 square foot tasting room resembles an upside down champagne glass, with 40 foot ceilings, a circular tasting bar, indoor fountain, and gift shop. Read the rest of this entry »

Why so serious? Photo by Jaymi Heimbuch
Hidden away in the Valley of the Moon is an organic winemaker who is very serious about winemaking. His name is Richard Kasmier but he goes by Kaz. And like some modern-day alchemist, he whips offbeat grape varieties like Lenoir and Nebbiolo into the kind of outspoken wines we have come to expect from California. But don't visit Kaz expecting esoteric wine chatter or any sort of "wine country" attitude, it's not their style. The family-run tasting room is littered with offbeat humor and a hometown feel that will make you think you are just that, home.  Read the rest of  the article at TreeHugger.com.
By Sam Turner


The most important vineyard operation in February is pruning, which usually begins in earnest this month. Although the vines are to be in a slumbering state of dormancy, they require a good haircut before bud break to make them produce high quality fruit. This is one of the most important vineyard operations of the year since it sets the stage for vine management throughout the rest of the growing season.
The purpose of pruning is to reduce the number of buds to a manageable number that will promote a balance between shoot growth (vigor) and number of grape clusters (yield). Each bud theoretically will produce one shoot that will contain two clusters. A well-balanced vine will produce just enough vegetation to fully ripen its fruit… Read the entire article at the Napa Valley Register
Sam Turner is treasurer for Napa Valley Grapegrowers and owner of Vista Vineyard Management and T & M Agricultural Services
By Teresa Rodriguez Williamson
Founder of TangoDiva.com and JETSETextra.com
Less than two hours north of San Francisco is a tiny town called Hopland. As its name suggests, decades ago it was a bustling community of beer makers, but those glory days have passed and Hopland disappeared into oblivion. But with the rise of organic wines and biodynamic farming, Hopland once again is on the radar for foodies and wine connoisseurs.
The area surrounding Hopland is known as Sanel Valley (pending AVA designation) and is ready for its début on the international winemaking scene. The region is a mere speck compared to other wine regions — about six miles long and two miles wide — but when it comes to biodynamic and organic winemaking, this valley is a giant. Within this relatively small plot of land, there are 11 organic and biodynamic wineries…
Read more on Huffington Post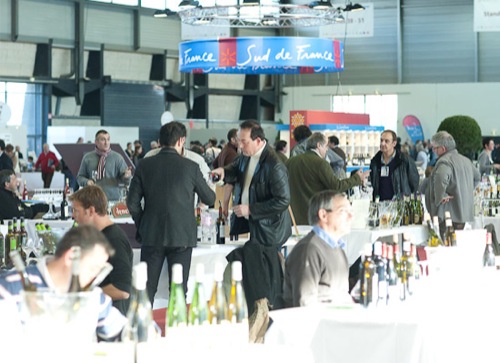 by Adam Morganstern
Editor of the Organic Wine Journal
Organic wineries from around the world showcased their wines at this year's Millésime Bio 2011, held in Montpellier, France from January 24th to 26th. Almost 450 wineries from fifteen countries participated, with the majority coming from France, Italy and Spain.
What began in 1993 as a small gathering of local winegrowers from the Languedoc-Rouillon region has turned into a global event, growing in both size, reputation and quality. This year they had to add a second exhibition hall to accommodate everyone.
See a slideshow with  interesting moments, people and wineries from the show at Huffington Post

That's right.  On Valentine's day you can download our visitors guide to California's organic wineries for free!
It's our Valentine's gift to you. One Day Only.
Just visit this page On Valentine's day, February 14, 2011 and click the "Preview/Buy It" link in the right-hand column to go to the iTunes store and download your free copy.
( Currently available for iPhone, iPod Touch, and iPad.)